What to Know About Honing a Knife
A knife is a must-have tool in the kitchen. Made in a range of styles and sizes and extremely versatile, different knives serve various purposes, including delicately filleting fish, tearing apart a chicken, and chiffonading basil. 
If you do know how to properly use and take care of knives, a quality knife can last for years and make it so much easier to prepare your meals. One vital inspect of regular knife care and maintenance is to keep your knives sharp through sharpening and honing (more on that later). 
So why is a sharp knife important?
Having a sharper knife gets your job done faster as it's more effortless to cut through ingredients. Sharpness ensures more accurate cuts, which will also maintain the consistency of your cooking. If your vegetables are of the same size, they'll take the same time to cook and will cook more evenly. And if you're cutting fat off meat, a more accurate cut will get you as much useful meat as possible.
When skinning fish, it also helps to have a sharp knife as a dull one makes it doubly difficult to get precise cuts on the fillet. And when you're cutting vegetables, you'll lose less pulp and juice to the cutting board if you use a sharp knife. When serving greens, this will ensure you get the most of out your vegetables, both in terms of quantity and nutritional value.
A sharp knife also means less strain on your back, arms, and hands. Using extra energy—in what might be several hours of standing—can tire even the most experienced chefs. Your safety is also at stake. A dull knife can easily slip as you push it down harder, which may cause an accident. In addition, cuts from a duller knife are likely to be more severe than those from a sharper knife. 
Taking your time to ensure your knives are sharp and good to go makes practical sense. However, even experienced cooks (home-taught or professional) might have no idea of how to correctly keep their knives sharp. To properly maintain your kitchen knife, one important thing is to differentiate between sharpening and honing.
Honing vs. sharpening 
Most people mistake honing a knife for sharpening it. In most cases, honing steel is frequently seen as sharpening steel. So how does honing differ from sharpening?
To know the difference, it's important to first to know how and why knives get dull. In dull knives, the blade's sharp edge isn't there anymore or the edge's metal is no longer properly aligned because of use. Even if the blade's edge remains sharp, a loss of the edge's alignment means it won't properly cut through food. 
So how does a knife get that alignment and sharp edge back? This is where sharpening and honing come in:
Sharpening
Sharpening grinds and shaves off bits of metal from the blade to create a sharp, new edge. It may be done with various tools, including a whetstone, water stone, or large electric knife sharpener.
Unlike honing, sharpening may be carried out less frequently—only a handful of times yearly depending on how frequently the knife is used. With training, suitable sharpening stones, and patience, you can carry out basic knife sharpening at home. 
For best results, there's no better way to do it than to let highly skilled professionals sharpen your knives with their professional grade tools. Professional sharpening will make your knife last longer, more fun to work with, and can fix broken tips, dents, and even a bent knife.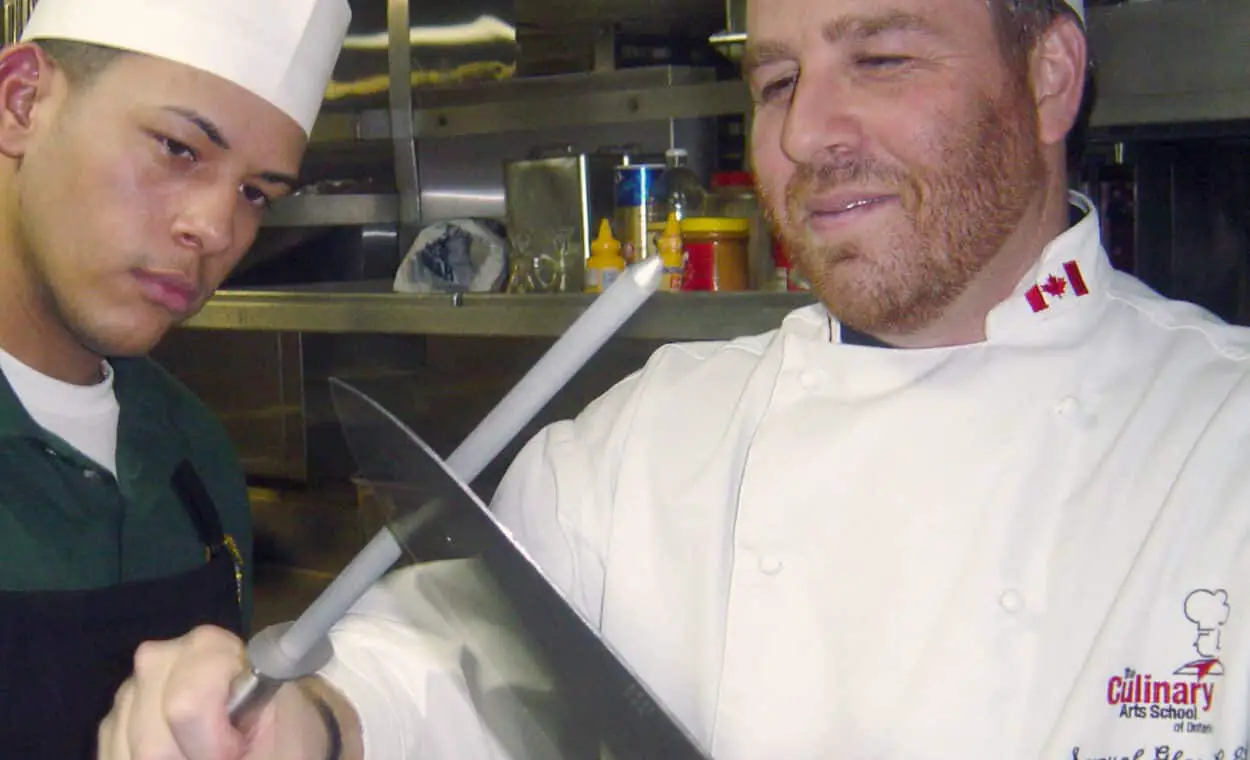 Honing 
Honing is essentially maintaining an edge that's already sharp. In the honing process, honing steel or home pull-through knife sharpener simply pushes the knife's edge back to the middle and straightens it. Honing fixes the edge without getting rid of too much blade material. It doesn't actually sharpen a knife but if you do it properly, your knife will appear sharper as the blade's now in the right position. 
Honing should be carried out more often and can be easily done at home. Ideally, you should hone your knife before each use. 
When to sharpen and hone your knife
Sharpening basically cuts into a knife to achieve the preferred angle, so it'll leave some debris behind. Sharpening is very efficient and, if done properly, long-lasting. In fact, your knife may only need sharpening a few times per year. 
Honing realigns the edge of the blade without getting rid of material. This helps to maintain the sharpness of the blade for food preparation tasks. You can certainly hone your knives as many times as you want. 
If you cook a lot, you may choose to hone your knife every time you use it. Then again, if you cook less frequently, you many only hone your knife every few weeks to months.
The bottom line
Honing, which refers to straightening a crooked cutting edge, is the simplest way to make sure your knives work well for a long time. The more often you hone your knives, the less often you need to sharpen them. That means the knives will work efficiently and last for many years to come.
References:
https://daddystayshome.com/what-are-the-different-types-of-sharpening-stones/
https://daddystayshome.com/what-is-a-scandi-grind/
https://daddystayshome.com/what-is-a-hollow-grind/
https://www.thedailybeast.com/guide-to-knife-sharpening-and-honing-both-electric-and-handheld?ref=scroll
https://knifeaid.com/blogs/knife-mastery/honed-vs-sharpened-knives